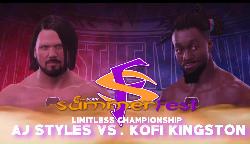 >LWF Limitless Championship
>Kofi Kingston vs. AJ Styles
Kofi Kingston is gearing up to become the most dominant champion in Chronoslam history. Already with unlikely wins over much larger, and stronger, competition, Kingston has made a name for himself on the brand. AJ Styles, meanwhile, is the Infinite Champion - the premier champion on the board. Only the Limitless title is on the line, as Kofi is convinced he has a point to prove. Does Kofi show that maybe we've been looking at the wrong title? Or does AJ Styles become the first Chronoslam Double Champion?