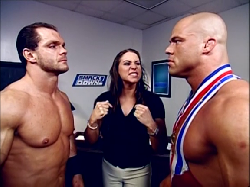 >Show starts at 8PM GMT/ 3PM EST
>Will be shown on https://beam.pro/LOLWrestling

Tonight on CHRONOSLAM...

Last week Dusty Rhodes defeated the Undertaker in an instant classic. His words to Big Evil were simple - become the Undertaker he knew he could be. Live the dream. But perhaps those simple words may have been a mistake. The Undertaker has a fire under him like never before and with his violent tendencies and goon squad by his side those words cast a shadow over the entire locker room.

Also tonight, Sin Cara deals with his frustrating loss to Steve Austin, Asuka attempts to prove she belongs in the Fortuna division and Self F5, coming off a dominant win, scour the landscape for any kind of competition.
>>157
There's two rounds:
First a ballot where you can submit a wrestler or wrestlers as many times as you like.

Second we count all the ballots and the ten with the most ballots will then be put to a vote.

The wrestler with the most votes in the second round will be brought to the Epoch during the next month of ChronoSLAM